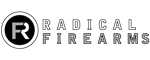 About Radical Firearms
We're a Title II NFA Gun Manufacturer with a complete—and growing—lineup of AR pistols, AR sytle rifles, silencers, and machine guns. We manufacture this line of our line of custom built AR-15s, AR-10s and silencers in house. We are a true manufacturer, not an assembly shop, with a fully modern tooled and operational machining facility. Our employees, many of whom are veterans because of our veteran hiring preference, are passionate about what they do and knowledgeable enough to do it extraordinarily well.

Radical Firearms offers an exclusive Lifetime Warranty an all products manufactured by as long as you own the product

Made in U.S.A.
223 Wylde (Can be used with both .223 and 5.56)
18" Stainless Steel Barrel
Black Finish
1:8 Twist
15" RPR MLOK Rail
BMD Muzzle Brake
No BCG or Charging Handle